Top 5 Reasons to Use a Romanian Influencer Platform
---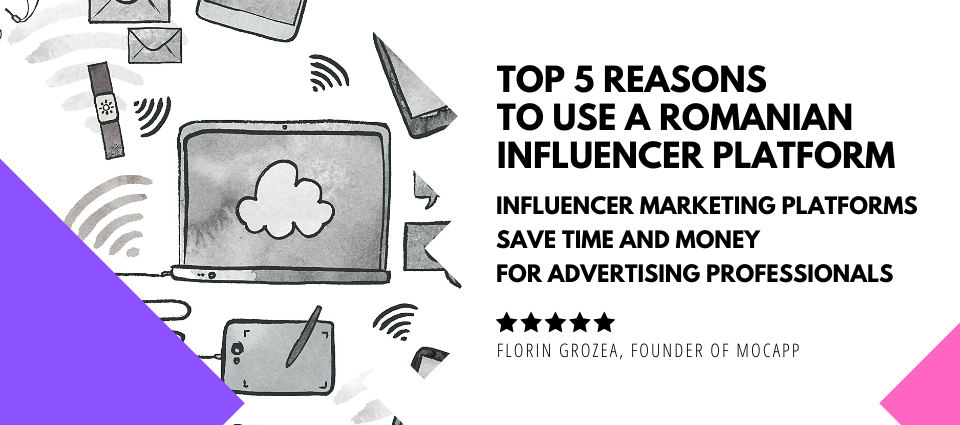 Are you looking for Romanian influencers? Do you want to create campaigns with Romanian influencers? There are high chances for you to need an automated Influencer Marketing platform.
It sounds SF a bit, but it's not like that…
Table of Contents
5 reasons to choose a Romanian Influencers Platform:
1. A platform provides updated data and relevant statistics regarding Romanian influencers
2. Find suitable Romanian influencers for your brand
3. You pay lower costs for your influencer campaign
4. Save time
5. You receive information and advice
Do you remember the articles announcing in 2000 that many professions will no longer exist in the next 20 years? They were right! Surprisingly, but…
True, many things have changed in human society, especially because of technology. Although many dreamed of UFOs to take off from the blocks in 2020, the reality surprised us here as well. Here is something else that "took off": Social Media.
We do not fly with the electric car in front of the house, nor do we teleport, but we live in the virtual environment.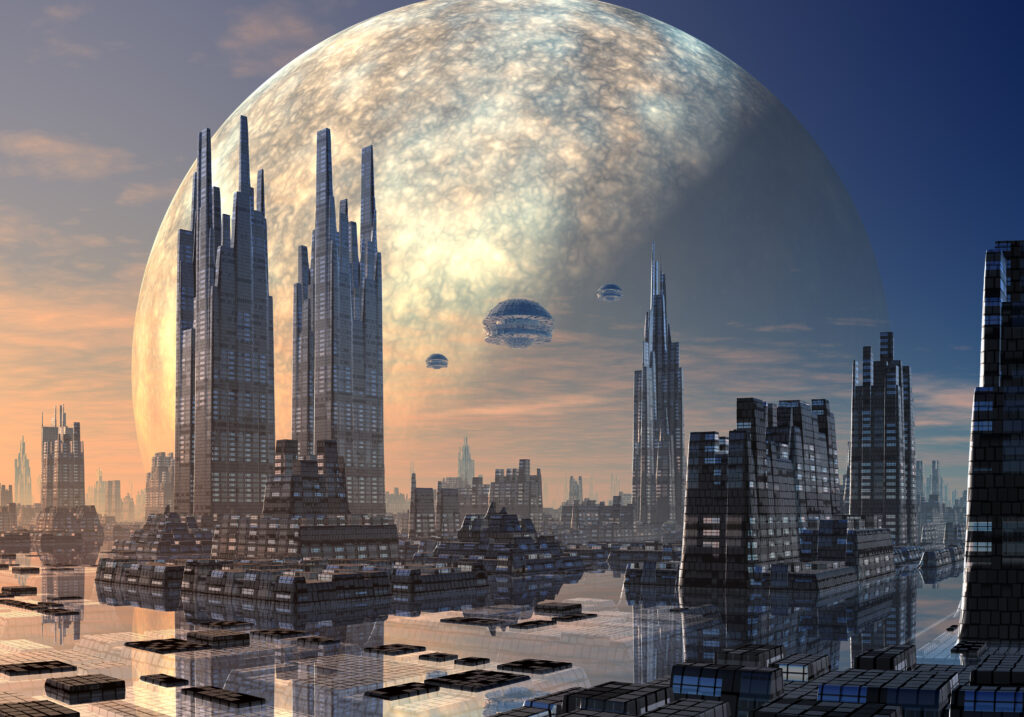 Our lives have changed a lot since the burst of Social Media: the way we inform ourselves, have fun, make friends, the way we work.
For example, who imagined 10-20 years ago we would write Influencer in a CV? Or Community Manager? Or Digital Platform Expert? However, these trades are part of today's professional landscape!
Influencer Marketing is the fastest growing advertising sector in recent years, for reasons detailed in this article. Solely on Instagram, budgets invested in campaigns exceeded $2 billion by 2020, according to viralnation.com.
The high demand in the field has led to the emergence of numerous digital services and tools that give better or less good solutions, cheaper or more expensive.
Everyone wants to do Influencer Marketing: PR agencies, media agencies, art management agencies, affiliate marketing platforms, content management platforms on Social Media.
For professionals who develop 360° campaigns, help is welcome. It is impossible to navigate the current landscape, divided between dozens of applications and media channels. For example, only in Romania there are over 4 million users on Instagram. 78% of them have over 5,000 followers, according to HypeAuditor.com. It's full of potential influencers!
Therefore, what do you choose when you need to document yourself and manage a project with influencers?
MOCAPP is unique on the Romanian market: an Influencer Marketing platform with the most automated application for advertising clients. Our team has carried out over 900 campaigns so we know the industry well and we can tell you some of the great advantages that such a solution provides.
Influencer Marketing platforms save time and money. They help you find the right mix of influencers for your brand.
5 reasons to choose a Romanian Influencers Platform
1. A platform provides updated data and relevant statistics regarding Romanian influencers
A smart platform (the tech service that incorporates more information and automation) manages to provide a complete, current and relevant image at the time of starting your campaign.
The huge number of influencers on all Social Media platforms makes documenting for each campaign a complicated and difficult process for any PR agency.
Each influencer has fluctuations in the number of followers or subscribers, and these numbers are constantly taken, manually, from each page in the absence of a tool that sorts them automatically and gives updated data.
In addition, the fees they charge and the audience figures the influencer has must be requested directly. It takes weeks to align the information with your budget and goals, and in the end, the data can already be outdated!
In MOCAPP, for example, you can find not only the updated number of followers, but also about the average reach of a post, its rating on various platforms, but also the ranking received from the feedback of other brands / agencies that have worked with it.
Thus, as a bonus, you find out the easiest people to work with, the ones who respond promptly and professionally. No other service provides this perspective in such a short time!
2. Find suitable Romanian influencers for your brand
An influencer platform is more than a database providing you with up-to-date statistics.
It has very valuable qualitative data: for example, see which brands have collaborated in the past with influencers you are interested in, and thus avoid unpleasant situations where you approach a person who has long or recently endorsed your competition.
From the platform, you also find out about the passions and niches of content that each one approaches.
Therefore, you'll be able to choose the right voices for you, the ones that are most relevant to your audience, even if you've never heard of them before.
Speaking of which, a PR, media or artistic entrepreneurship agency will propose those in its portfolio or those with whom it has collaborated successfully, by habit or comfort.
In MOCAPP, the Influencer Marketing Platform, you can find new and fresh names, with small, medium or large numbers, good statistics and tailored results – more precisely over 121,700 data-points from 8 social networks! (Why 8 social networks? Because it's important to reach your audience, not to run out of budget on Instagram, for example)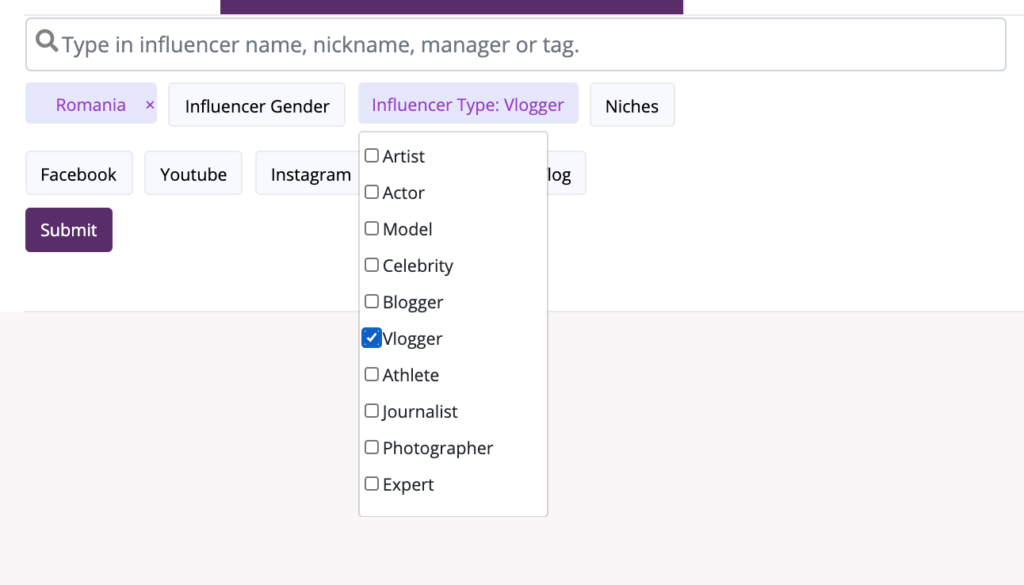 In MOCAPP you can find 10 types of influencers:
actors;
artists;
athletes;
bloggers;
vloggers;
celebrities;
experts;
journalists;
models;
photographers.
Without a little help from a specialized platform, you will see the market through a lens that excludes many possibilities, and this filter may not be in your favour.
In addition, MOCAPP is the only partner of HypeAuditor on the Romanian market, the main international company that audits the audiences of content creators on Social Media and can provide information about fake followers by auditing the statistics of influencers and the behaviour of their followers. You can avoid such people who ask for fees that do not justify the results.
3. You pay lower costs for your influencer campaign
There are several financial benefits to using an Influencer Marketing platform.
First, it allows you to do a budget simulation of your campaign using information about the average fees required by influencers for various deliverables.
Thus, by comparing the communities of each influencer, the engagement rate on each platform where he is active, you can maximize the results.
Transparency is very valuable. Access to more information means a better strategy, maximized budget or minimum costs!
In addition, there are no hidden costs: many agencies usually add a fee over the fees charged by influencers, and you have no control of the contractual relationship, because you conclude a contract with the agency and everything is mediated by it.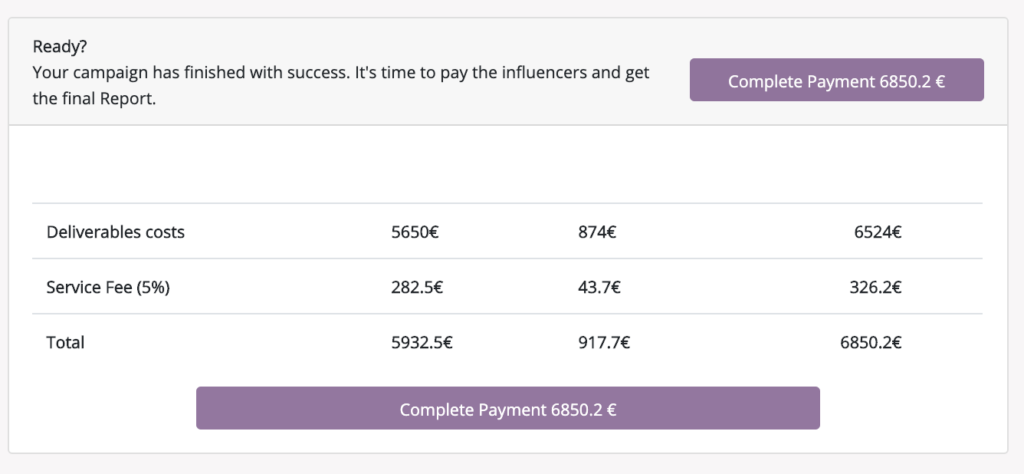 4. Save time
In our experience, the average duration of developing an influencer marketing campaign is, in a happy case, 8 – 10 weeks.
The process means selecting influencers, contacting them, exchanging emails with briefs, giving feedback regarding the texts, pictures or videos, approving deliverables, sending / receiving draft contracts, sending them scanned or by courier.
To this period is added the time for reporting, when you gather statistics and put them in a table and arrange the information in a beautiful presentation. In short, if you want to do a Black Friday campaign, it's good to start in the summer!
An Influencer Marketing platform has all these automated processes. From documentation, the stage that probably lasts the longest, to signing the contract and reporting, everything is done on the platform, with few clicks.
Moreover, if you have time to take a look at selected influencer options according to certain criteria and you want to remember them for a future campaign or for a specific client, you can save them in dedicated lists.
5. You receive information and advice
MOCAPP looks like a very smart software. But it's not just that! The human factor is essential in marketing.
Therefore, it is important to say that the specialists in our team, with 7 years of experience in Social Media campaigns, will guide you with feedback regarding strategy, choosing influencers and cross-platform campaign design, if you need it.
The difference between MOCAPP and a talented PR, media or business agency is access to a huge volume of data, but also to a niche team on online campaigns, with a deep knowledge of the Romanian influencer market.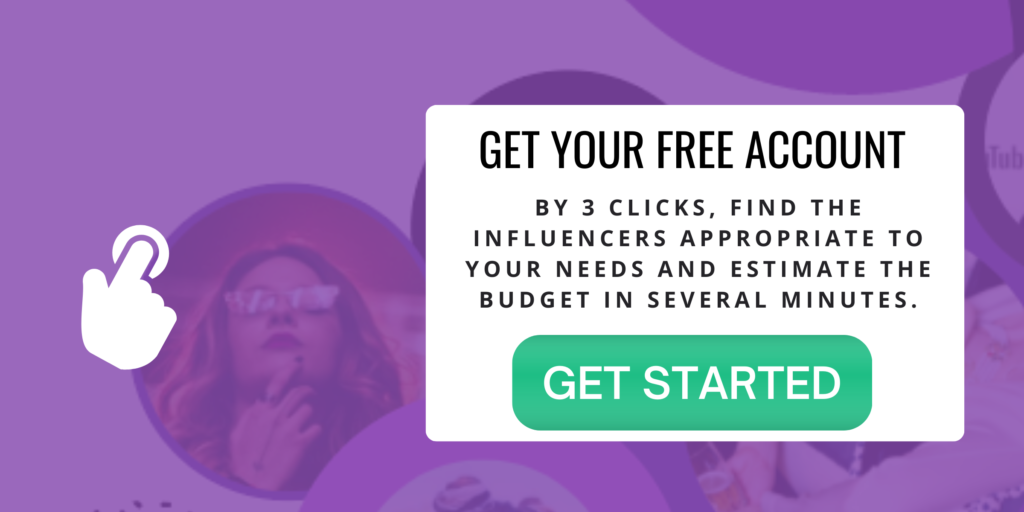 For more information regarding the Influencer Marketing industry, see the MOCAPP series of articles HERE.
---